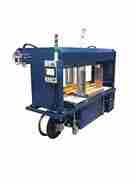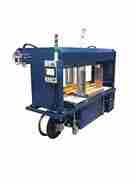 Fully Automatic Arch Strapper
Polychem's operatorless automatic arch strapping machines provide reliable high speed service for a variety of applications. They were designed for most in-line industrial production, including graphic arts, cut-size paper, packaged foods, and carton closure. Super heavy duty construction enables these to strap light (magazines) to heavy (ceramic tile) loads.
The CB4000SQ in line corrugated bundler incorporates the latest servo motor technology that provides the ultimate in reliability. This technology also provides high speed production rates, 40% less moving parts and minimal maintenance requirements. The quick adjust backstops with squaring devices produces square neat bundles. These devices are accurately driven by DC brushless motors. Once the backstop is set in position with the wheel driven gear rack, the squaring can be quickly set up with a one button learning mode. There is also the ability to program and save recipes for quick batch setup. The CB4000SQ includes new and exclusive features only available on this innovative in line corrugated bundler. All features are standard and are included with no additional cost.
Features:
Electrical & Mechanical
Full color touch screen provides user friendly operation, diagnostics and easy batch programming for quick product changes.
All electric 3 sided squaring.
One button setup mode.
Off the shelf Mitsubishi PLC, Yaskawa servo motors, drives and electrical components. All solid state photo cells and sensors.
Four tier LED status light tower.
Variable speed conveyor.
Up and down stream interlocks for communication.
Conveyor sleep mode for power and wear reduction.
Long life heater blade with fume exhaust system.
Both conveyor beds open a full 270 degrees for easy access and maintenance
Strap reel turns 90 degrees for good ergonomics and easy coil changes
Automatic strap eject at end of coil
Auto loop ejector prevents strap jams during accidental strap cycles
One piece plastic strap track for highly reliable and consistent strap feeding
Heaviest casters, legs, and frame in the industry provides durability
Dual pneumatic compression device for bundle conditioning