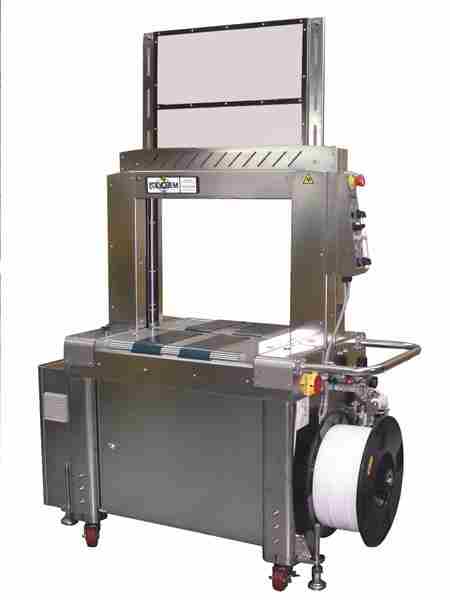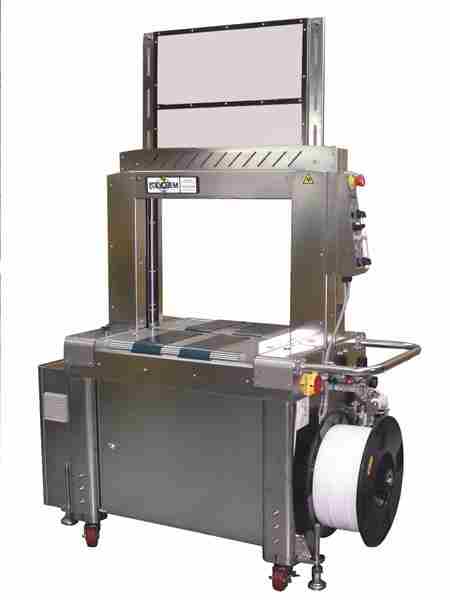 Fully Automatic Arch Strapper
Polychem's operatorless automatic arch strapping machines provide reliable high speed service for a variety of applications. They were designed for most in-line industrial production, including graphic arts, cut-size paper, packaged foods, and carton closure. Super heavy duty construction enables these to strap light (magazines) to heavy (ceramic tile) loads.
The PC2000CX stainless steel, fully automatic strapping machine is for the protein market. The machine is capable of up to 65 straps per minute; production bottle necks are virtually eliminated with this high rate of throughput.
Features:
Robust and Compact Strapping Head
Standard arch size - 25" W x 19" H
Free access to Strap Guides (patents registered)
Electronic Tension Control/Auto Strap Ejector
Dual Photo Eyes/ Siemens PLC Control
Hinged Top Plates (7 gauge)/ Splash Guard Over Seal Head
Dual cylinder pneumatic press for agility and finely tuned package compression
Pneumatic air gun for easy maintenance cleaning
Extra wide HD locking castors to handle quick movements in and out of station
Fixed strap cutter near strap coil for convenience
Multiple strap function for single, double, continuous or transit mode
Belt-driven table with variable conveyor speed between 10 and 60 meter/min
Up and down stream interlock with complete plug connection
Easy reversible package flow
Loop ejector
Fully Automatic Bundling Machine for the Protein Market