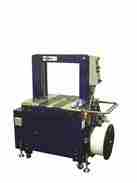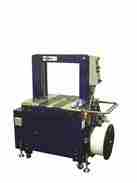 Fully Automatic Arch Strapper
Polychem's Fully Automatic arch strapping machines provide reliable high-speed service for a variety of applications. They were designed for most in-line industrial production, including graphic arts, cut-size paper, packaged foods, and carton closure. Super heavy-duty construction enables these to strap light (magazines) to heavy (ceramic tile) loads.
Polychem's PC2000/PC2000P are world class high-speed fully automatic strapping machines. Both the PC2000/PC2000P provide high reliability and performance earning them the best price value reputation in the market today.
Features:
Cycle Speed up to 65 Straps per Minute
German DC Brushless Motors
Arch Sizes up to 41 inches
Standard arch size - 25"w x 19"h
Robust and Compact Strapping Head
Direct Drive Cam, No Clutch, pulleys and 30% fewer parts
One piece strap chute/ Electronic brake
Free Access to Strap Guides (patents registered)
Electronic Tension Control/Auto Strap Ejector
Multiple strap function for single, double, continuous strapping or transit mode
Belt-drive table with variable conveyor speed between 32 and 195 feet/min
Up and down stream interlock with complete plug connection
Loop ejector/End of Coil Auto Eject