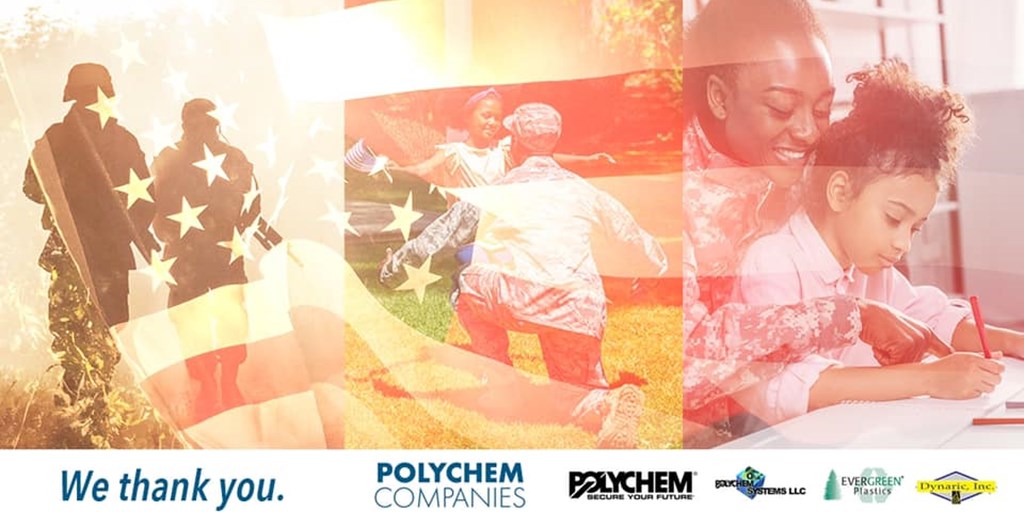 A promise repurposed
For those with pride of country, a team focused drive, and the courage to achieve every goal, we salute you. Veterans Day reminds us to reflect on America's rich military heritage as well as acknowledge the service women and men who dedicate themselves fully to protect the freedoms we hold dear. Polychem is fortunate to have many of these great Americans within our extensive manufacturing facilities. The qualities we admire in our military members serve as foundational necessities when hiring exemplary employees.
With gratitude for your past,
There is no amount of thanks to fully express our deepest gratitude for the sacrifices and service you devoted to the safety of others. This selflessness goes beyond the call of duty. Our mission here at Polychem is to honor all of your experience in a meaningful and effective way. Valued skills and interests are woven into every fiber of our teams. You will see and feel a direct correlation within your own line, a unit working together towards a common goal.
Support for your present,
Working at Polychem gives you the opportunity to continue working as a team. We care about you as an employee and a person. Creating a safe and stable work environment is another priority of ours. As a former or current member of the military, your likeminded interest in these areas is always a top consideration. We support our staff in any career path they wish to take. Competitive pay and multiple shifts are just a few of the reasons we are so popular amongst our veteran colleagues. Within our production lines we embrace the same standards of responsibility, teamwork, and pride of country, making a product here in the USA.
And preparation for your future.
Whether you're retired from service or active status military, Polychem wants you to feel secure in your career. Apart from the benefits of familiar faces and routines, a highly esteemed product and the ever growing demand, your time with us is valued beyond the time clock. As a military member you are eligible for paid military leave. This is one of the many reasons our sustainability business cares for not only the world we live in, but also for the people who defend and protect it. Joining our expanding workforce it not just about the memories of yesterday or the needs you have today, but more so, a commitment to a better tomorrow in every way.
Thank you.
To all of our current veteran employees, thank you for making Polychem a proud partner in the efforts you make to keep our world safe and sustainable. To all veterans seeking a workplace full of opportunity, camaraderie, and structure, please visit our site for a list of openings across our multiple locations. There is a place for you within the Polychem family. Thank you for making our country one of resilience and pride.
Happy Veterans Day!